Harry Potter and The Deathly Hallows Part 2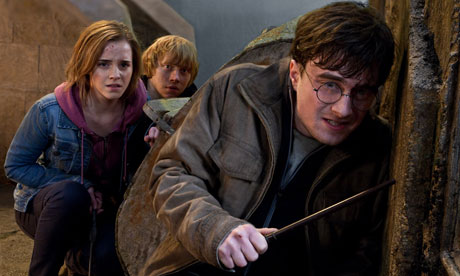 On 18 November 2001, I began my review of the first Harry Potter movie: "It's difficult to separate the film of Harry Potter and the Philosopher's Stone from Harry Potter the phenomenon – that astronomical budget; the producers' worldwide deal with Coca-Cola; the billion dollars-worth of associated merchandise; the actors' complaints of being exploited by Hollywood; the declaration by its director, Chris Columbus, that JK Rowling's novel merited the respect accorded to Shakespeare; the endless opinions on its significance ranging from world premiere guest Brooklyn Beckham to newspaper moralist Melanie Phillips."
The Harry Potter books are a mishmash of myths ancient and modern, pulling in everything from Dickens to Wagner, the New Testament to Superman, with Harry as Christ, King Arthur and Clark Kent. What Rowling's books also emphasise is an essential Britishness that has been partly maintained in the films through local casting involving almost the whole British acting profession. Not surprisingly, the final film ends with a coda set on King's Cross station 19 years later, as the grown-up Harry, Ron and Hermione send their own children off to board at Hogwarts.
Harry Potter and the Deathly Hallows has dispensed with the amusing whimsy involving its eccentric staff that lightened the earlier films, and it takes its sense of mission very seriously. First, the film is thankfully free of songs, either comic or sentimental. Second, when this epic odyssey began, I raised the question as to whether the Harry Potter films would endure as well as The Wizard of Oz.
Harry Potter and The Deathly Hallows Part 2